"Cyborg USA" Brings Classic Team Books into the 21st Century (opinion)
Transhumanism meets a terrorist death cult called Yuri & The Red Skirts in the Cyborg USA comic by Rob Cacy and friends. Transhumanists dream of transcending the natural limitations of our species through physically invasive technological innovation. Yes, it's real.
But what kind of person is Cyborg USA writer Rob Cacy? He's the kind who sends a Cyborg USA Christmas Card/art print to every customer who backs his book.* He's the kind of guy real people like to befriend. After a quick exchange of messages, a humble, self-effacing Cacy demonstrates a real passion for independent comics. He's so passionate about his own book, that you can read the first issue of Cyborg USA, free of charge, at the official website. Both of the first two physical issues are currently in-demand on Indigogo here.
Cacy is quick to credit Zach Tabacco as co-creator and co-writer. Tabacco has a Masters Degree in screenwriting from the American Film Institute (AFI). Impressive, I'll say it for him. Cacy's experience includes work as a production assistant on Law and Order. Cacy and Tabacco are well-trained storytellers covering about everything involved in film making, and both have bounced around the idea of the comic "for years."
For the comic's visuals, Pablo Romero's Jawbreakers fan art caught the eye of Cacy, who says, "He had the perfect art style, it was exactly the look I had always imagined for CYBORG USA." Romero came aboard as a character designer who enjoyed the work enough to draw issues 1 and 2.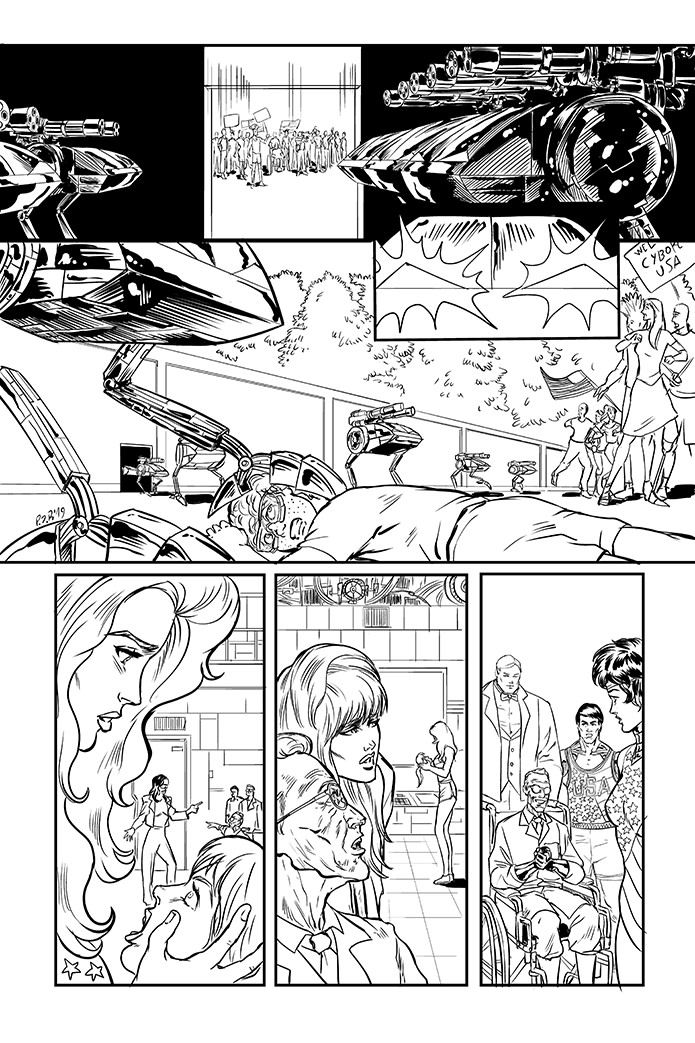 Cacy's admiration for Romero's work is apparent. "Pablo got a lot of attention recently, and his social media profile spiked, because of some sexy drawings he did of Captain Marvel and Rose Tico, (among others) on Twitter. Go check them out! Pablo is an amazingly enjoyable artist with a terrific sense of humor. He deserves all of the good attention he gets, and I feel very lucky to have found him for CYBORG USA." Other very talented artists also worked on the project. Please see the campaign page for the rest of the Cyborg USA team credits.
Cacy says his motivation for the project "is the result of a lot of personal experiences and favorite entertainment. I have friends and family members who have been Olympians (or close), and I missed the Olympic Park bombing in Atlanta by about 20 minutes in 1996. When I came up with the idea, about 20 years ago, those things influenced me, plus my enjoyment of comics and Saturday morning cartoons like G.I. Joe, M.A.S.K., Mr. T, Super Friends, and other action-adventures on TV and in film, like A-Team, Knight Rider, Wonder Woman, and Robocop.
"This series also deals with my personal fears about dismemberment (my sister lost an eye in a fishing accident when she was 20), and a general anxiety about The Singularity and artificial intelligence-enabled immortality."
The final push to make the project a reality is credited to the Comics Matter with Ya Boi Zack (Zack) aka Diversity and Comics YouTube Channel. Cacy appreciates Zack's reporting of G.I. Joe fan issues with Aubrey Sitterson. Cacy feels that Zack "truthfully represented my experience observing things unfolding in real time."
The one-sided disdain of G.I. Joe fans by the media, along with Zack's own comic production issues, provoked the creation of Cyborg USA. (This mistreatment of fans and especially the taunting of ya boi Zack are well covered in numerous articles and videos. This is in part the call to action for comic fans known as "ComicsGate" who no longer represented by the mainstream comic industry.)
The Cyborg USA team is motivated to continue the series past the first two issues. According to Cacy, "I have it in mind to do 12 Issues (like an old Marvel limited mini-series), plus one Annual. The success and positive reception of these first 2 Issues in our first INDIEGOGO campaign will hopefully propel us into the next campaign for Issues 3 & 4, coming soon!"
Sounds exciting to me, especially the underlying transhumanism theme. Humanity has an ugly history of subjugation justified by the supposed superiority of an elite. Plus, I've always been a sucker for a patriotic team book. The book seems to me to be a forward-looking G.I. Joe. Rob Cacy is the real deal, too. Your money is well spent here. Be sure to hurry as the first issues of Cyborg USA are limited to 500 copies. The project's Indiegogo campaign page is right here.
*Disclosure: the author of this post is a backer of the Cyborg USA Indiegogo campaign. Special thanks to WarCampaign for introducing me to Cyborg USA via their YouTube and Twitter channels.
---
The Splintering has an email newsletter! To sign up for our content sent directly to your inbox, go here!