Crowdfunding Review: "Starblades" (Kyle Ritter, ALL CAPS Comics)
As a new contributor to The Splintering, my first order of business is to thank them for giving me the opportunity to review the greatest entertainment medium in my opinion, comic books. I've collected comics for over 47 years and I've published comics for 6 years. It's a long-time passion of mine (some might say obsession, and I can't dispute that).*
The first title I'll be reviewing is Kyle Ritter's Starblades. As reviewers who have gone before me were wont to do, the categories I'll be adjudicating will be the following:
Book Content and Quality
Communication and Fulfillment
Packaging and Shipping
Stretch Goals and Bonuses
This appears to be Ritter's first solo crowdfunding project, yet Starblades raised nearly a quarter of a million dollars and had more than three thousand five hundred backers.
Book Content and Quality
First, some high praise for presentation: I'd heard for quite a while that Kyle was an amazing colorist, and that's no lie. This title clearly demonstrates that he has some serious colorist chops. They are vivid, distinctive and almost tell a story on their own. With Starblades, Ritter has shown us all that he is also a phenomenal artist. This artwork is on the highest level of this visual medium and I could look through this book again and again and continue to be amazed at the professionalism and level of detail. There is an exception, but it's not enough to take me out of the art appreciation. Often the faces, although very well-drawn, lack emotion. Despite some serious conversation and critical or dangerous situations, the expressions are very bland.
The art, as always, is a huge draw for a comic. It sparks the readers' interest and brings you into the world. Equally important, however, is the writing. The story needs to flow, characters need development and set-up. The reader needs to become invested in the characters and their journey and what motivates them. In the case of a team book, the reason a team comes together, the dynamics of personality, and intra-team conflict and cooperation are all of utmost significance.
It's in this area that Starblades is lacking. Characters appear and join the team with very little explanation or purpose. It feels very rushed and not well fleshed-out. Because so much of the book is splash pages and large pin-up panels, there wasn't much time to explain situations or develop the scenes. The character in the very first battle claims not to remember how to use his power, then immediately does it. The battle itself is over almost immediately, which is either not well-written or the character is too overpowered and therefore the battle doesn't feel like the protagonist was ever really in peril. Now, to Ritter's credit, the character does say that it was too easy and something is wrong. We just don't learn what that is and it's seemingly dismissed. The importance of other scenes, characters and conflicts are similarly presented as if they have significance, but they're given little explanation. I find that at the end of the book, I am not at all invested in any of them and not anxious to see what comes next.
GRADE FOR QUALITY OF ART AND COLORS: A+
GRADE FOR WRITING (the best I can give): C-
OVERALL BOOK CONTENT AND QUALITY GRADE: B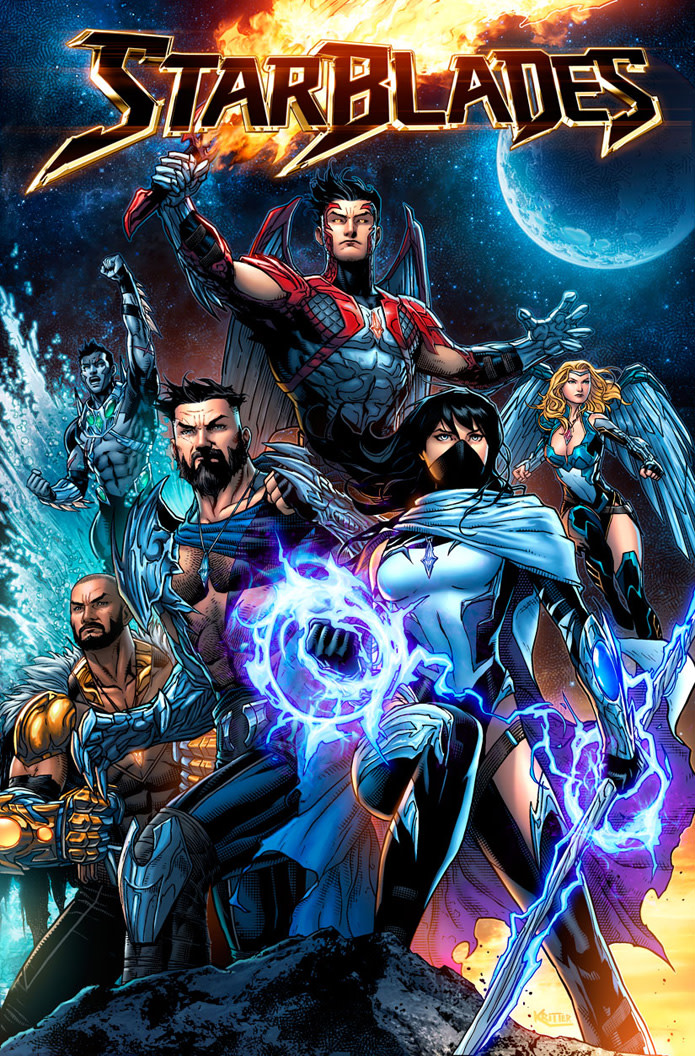 ---
Communication and Fulfillment
I backed Starblades in November 2020, when it was already well past being funded and in demand. It was on the recommendation of a friend who introduced me to the crowdfunding community. It was the 8th book I backed last year and almost right away, I learned that other backers were unhappy they hadn't yet received their comic. I don't know why it took so very long to fulfill and that speaks to a lack of communication. I was unaware of when I would get the book I backed until I learned that ALL CAPS Comics had come to terms with Ritter and would be handling fulfillment for him (but I learned that from ALL CAPS, not from Ritter). Looking at past updates, Ritter sent one in October 2020, apologizing for the lack of updates, and then again in December (apologizing for the lack of updates again). From that point forward, all of the communication was from ALL CAPS. Was Ritter disinterested at this point?
It reached the end of it's funding segment in September of 2019 and I didn't back it until more than a year into its In Demand phase. So, coming to the game very late, it was still another six months before the book was delivered to my doorstep.
COMMUNICATION AND FULFILLMENT GRADE: D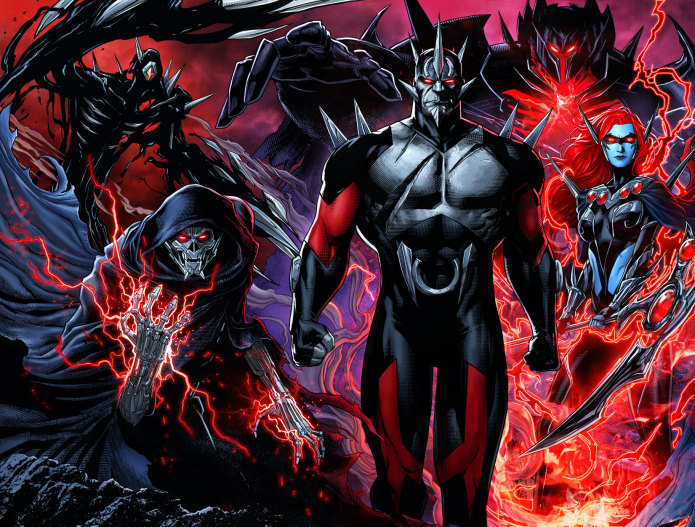 ---
Packaging and Shipping
Because this was handled by ALL CAPS Comics, this was handled very professionally and with great care for the customer. The book came in a Gemini mailer with ALL CAPS branded packing tape. It was well protected and arrived in great condition. It had a bag and board and was sealed with an ALL CAPS branded sticker.
PACKAGING AND SHIPPING GRADE: A
---
Stretch Goals and Bonuses
There were just two stretch goals, one at $40,000 and one at $50,000. Talk about confidence. The lowest stretch goal was at $40,000 for his first campaign? However, both stretch goals were surpassed handily and both of them increased the number of pages in the book, which turned out to be more pin-ups and splash pages. If you look at this purely as an art book, that is fantastic. His art will blow you away. If you wanted more story, I doubt you got any more.
There were no bonuses. There are two schools of thought about that: 1) Backers want to get more for their money than just a book and 2) Backers think the tchotchkes are great, but don't ever do anything with them anyway.
STRETCH GOALS AND BONUSES GRADE: C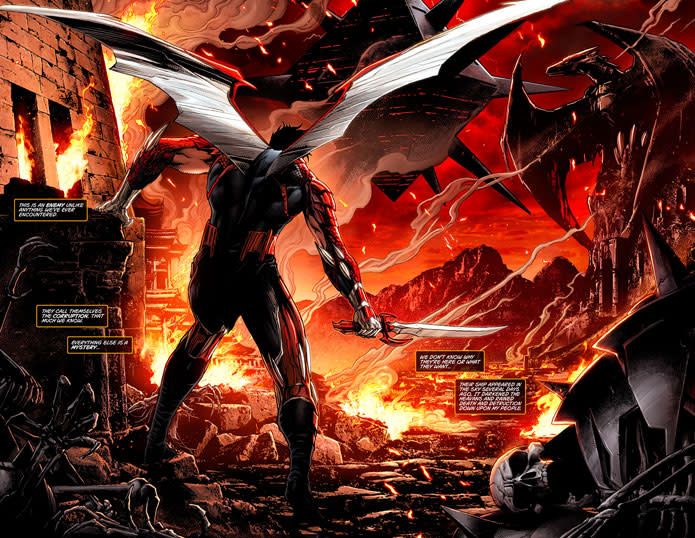 ---
If Starblades was sold as a pin-up book, this would have been a completely stellar review and I would have highly recommended every page. It's stunningly beautiful. As a comic book meant to tell a story, it falls short.
ART ALONE GRADE: A++
OVERALL GRADE: C+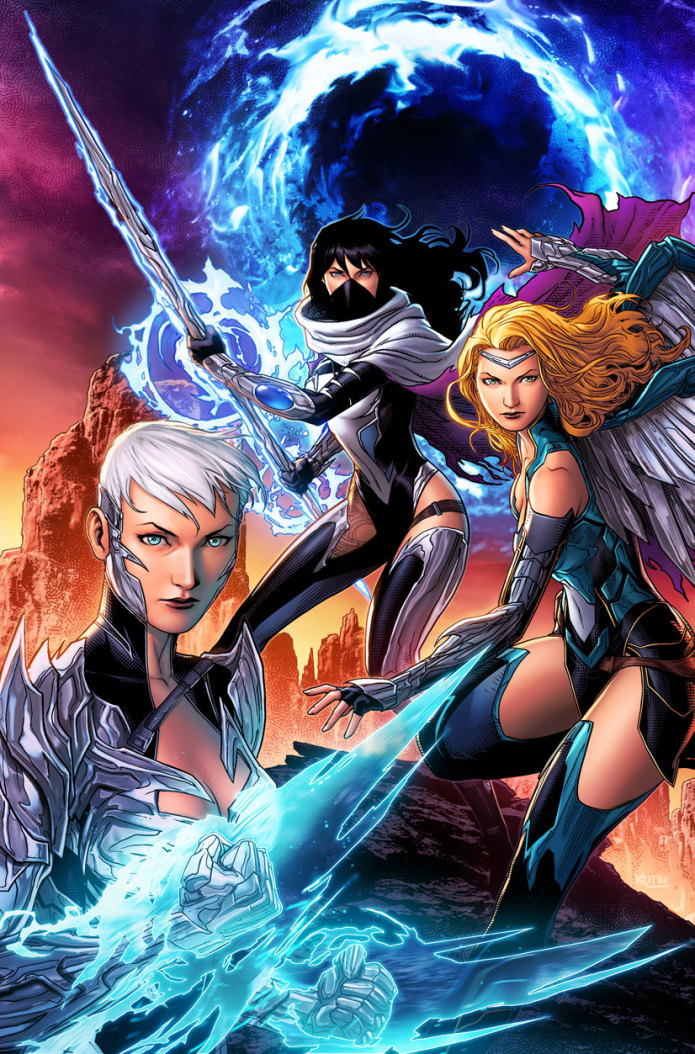 *Disclosure: The author of this review is also an independent comic book creator.
Thanks for reading!
Please consider following The Splintering on social media or bookmarking the site for more independent entertainment news, views, and commentary!
---
The Splintering's Teespring store has items for any budget, great and small! If you like what we do & want to help keep our site 100% free of paid ads, go here!